Skip to main content
Click me
Kidwelly Castle Guidebook
£4.95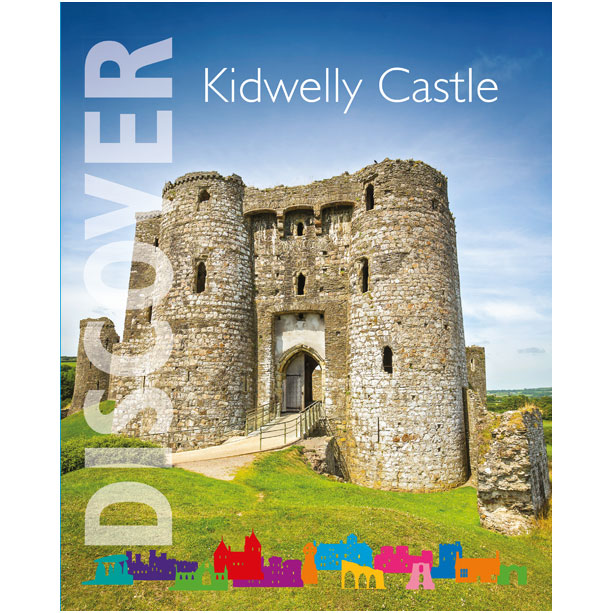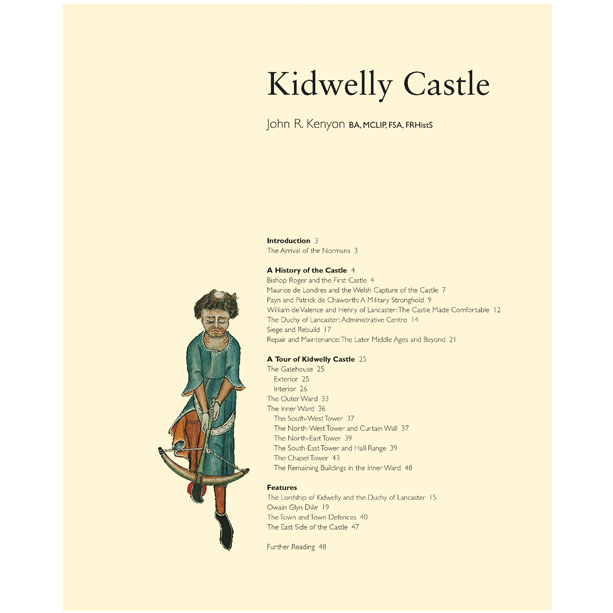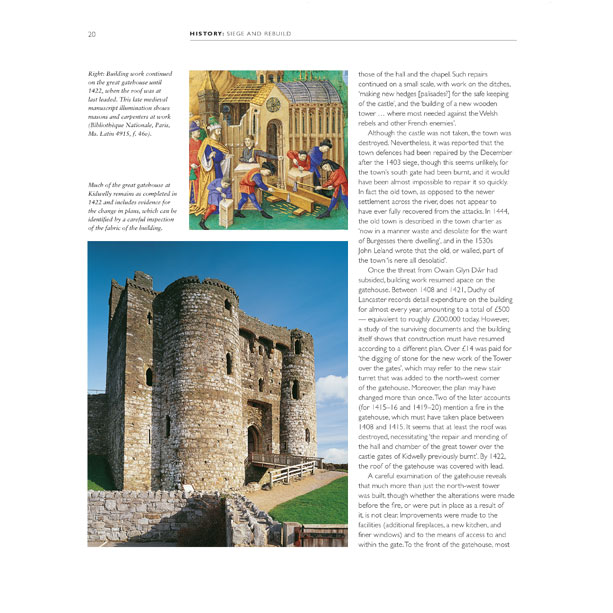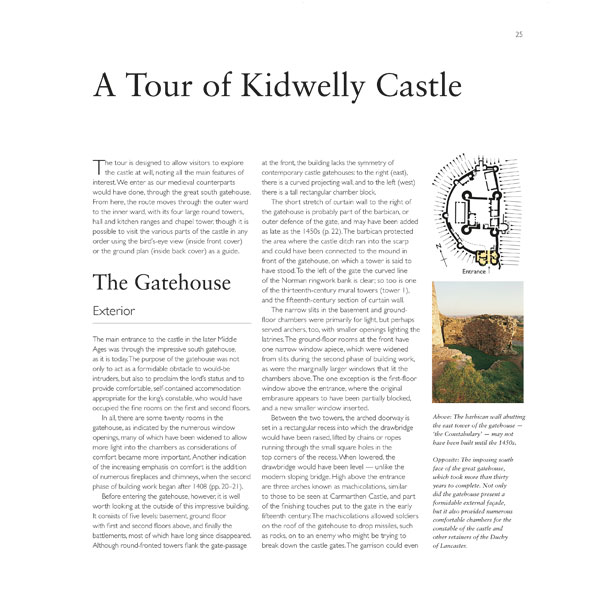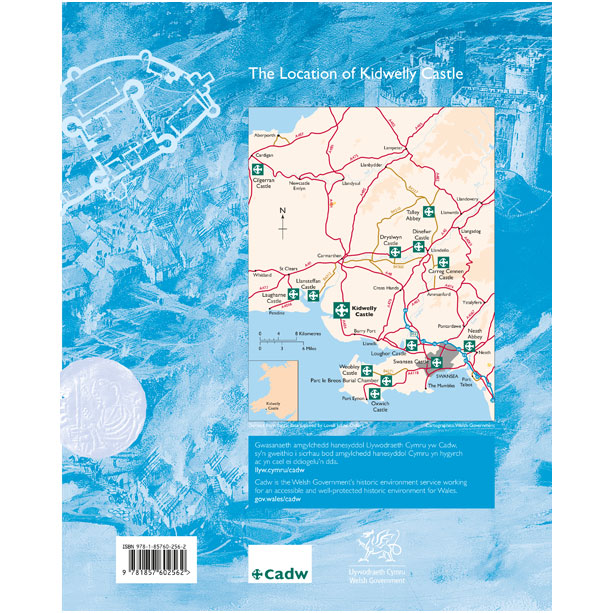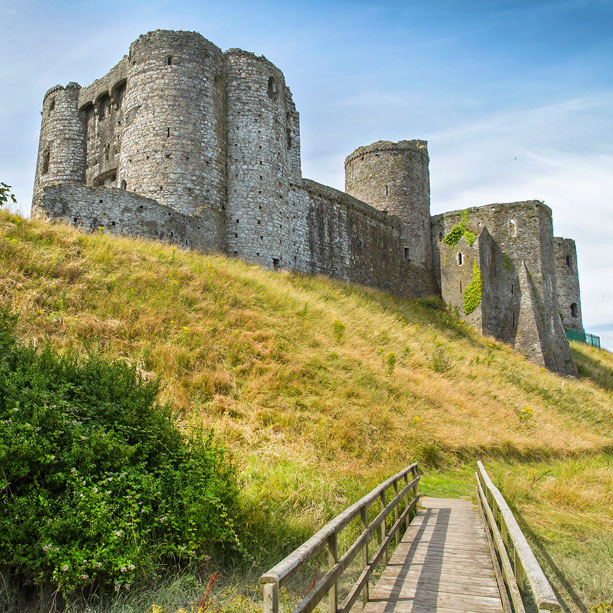 Kidwelly Castle Guidebook
£4.95
Quantity
Kidwelly Castle was begun soon after King Henry I granted the Welsh lands of Cydweli to Bishop Roger of Salisbury in 1106. The first castle was a large D-shaped enclosure set at the upper tidal limit of the river Gwendraeth. The original defences would have consisted of an earthen bank and a timber palisade, with one or more gates. Inside, there would have been wooden domestic buildings and perhaps a stone-built hall.
The castle was transformed by the Chaworth family in the early thirteenth century. It became an important administrative centre for the Duchy of Lancaster with John of Gaunt initiating rebuilding of the great south gate in 1389.
In 1630 the castle passed from the Duchy into the hands of the Vaughan family; in 1927 the castle came into State care and is now cared for by Cadw.
Product Code: CPG00023
Published 2017 / 48 pages / ISBN 978-1-85760-256-2
Size 210mm (w) x 255mm (h) English language
Thank you for your order.
Information about online purchases for tickets, shop products and refunds are outlined below. You may want to save/screenshot this page for future reference.
You can find details of any online Cadw purchases, including membership, shop and tickets in MyCadw by visiting:
https://www.cadwmembership.service.gov.wales/my-cadw/
Important information about your order
If you have purchased tickets for an event, these will be sent via email. If you haven't received your e-tickets within an hour of completing your transaction please check junk/spam folders, or log into MyCadw.
Site entry tickets are non-refundable, they cannot be exchanged or transferred to an alternate date, time or venue.
If tickets are not redeemed at site on the specified date and time they will automatically redeem and become invalid.
Please arrive with your tickets pre-printed OR on your mobile device in order to gain entry.
On occasion some sites are closed for reasons beyond our control, may host free entry days and  /or special events. We recommend checking the Cadw website, our Facebook or Twitter accounts or calling the site ahead of your planned visit to make sure there are no planned closures.
If you are a Cadw member and are buying tickets to attend with guests then please remember to bring your valid membership card to enjoy free entry.
For any other ticket queries please contact CadwDigital@gov.wales
Our COVID-19 test and trace privacy policy

This policy was last updated on 30 July 2020.
This privacy policy details how Cadw (Welsh Government) is supporting the Welsh Government's Test, Trace, Protect strategy against the spread of coronavirus in Wales.
As part of this, we would like to assure you that we are committed to meeting our data policy obligations in line with GDPR and will continue to handle your information securely.
Cadw (Welsh Government) is the Data Controller for information you provide to us as a heritage organisation and is responsible for compliance with data protection legislation for the period that we hold your information on our database. Cadw (Welsh Government) will process your personal information as part of our public task.
What information do we collect and how?
We are collecting contact information for all of our members, visitors (including school and group organisers), customers, contractors, volunteers, and staff who enter or use facilities at our staffed heritage sites, including:
Name
Telephone number
Date and time of visit
Contact information for our members, visitors and customers will be collected at point of reservation or purchase of site entry tickets via our new online booking system for staffed sites.
If you visit on a multiple person membership or as part as a group, we will record the contact details for the 'lead member' or person purchasing the tickets online. We will also record the number of people included in the booking.
For volunteers, contractors and members of staff, we will use the contact information you have provided to us and which we have on file, or you will be asked to provide your contact information upon site entry.
How will your information be used?
We will only use your contact information for test and trace purposes unless you have specified otherwise at point of ticket reservation / purchase (such as to receive Cadw e-newsletter marketing).
Where it is necessary for us to collect information that we would not normally collect via the online ticket booking system, it will only be used for the purpose of the Welsh Government Test, Trace, Protect strategy. Unless you have specified otherwise, it will not be used for any other purpose such as marketing.
What is the legal basis for using your information?
Cadw will retain and process your personal booking data for the purpose of the Welsh Government Test, Trace, Protect strategy only — as a legal, legitimate interest.
Who will your information be shared with and why?
Welsh Government and Public Health Wales or your local authority will only ask Cadw for this information where it is necessary, either because someone who has tested positive for COVID-19 has listed one of Cadw's heritage properties as a place they recently visited, or because one of Cadw's properties has been identified as the location of a potential local outbreak of COVID-19.
We will only share this information when it is requested by the Test, Trace, Protect programme and will ensure that this information is shared in a safe and secure way.
Where information is shared with Public Health Wales or your local authority to carry out the Test, Trace, Protect Service, Public Health Wales and your local authority will be the Data Controllers for your personal information at the point they receive the data from Cadw.
How long will we keep your information?
We will only use and store your information for as long as it is required for test and trace purposes. Your personal information is collected to allow us to support the Welsh Government Test, Trace and Protect strategy will be retained for twenty one days from the date of your visit.
What are your legal rights?
Allowing us to share your information with the Welsh Government Test, Trace, Protect programme helps us to keep our members, visitors, customers, contractors, volunteers and staff members safe.
Only those that have shared their details shared for the purposes of Test, Trace Protect will be allowed in to the site.
Under data protection legislation, you have the right:
to be informed of the personal data Welsh Government holds about you and to access it
to require us to rectify inaccuracies in that data
to (in certain circumstances) object to or restrict processing
for (in certain circumstances) your data to be 'erased'
to (in certain circumstances) data portability
to lodge a complaint with the Information Commissioner's Office (ICO) who is our independent regulator for data protection
Contact Information
For further information about the information which the Welsh Government holds and its use, or if you wish to exercise your rights under the GDPR, please see contact details below:
Data Protection Officer
Welsh Government
Cathays Park
CARDIFF
CF10 3NQ
The Information Commissioner's Office (ICO), our independent regulator for data protection can be contacted at:
Information Commissioner's Office, Wycliffe House, Water Lane, Wilmslow, Cheshire. SK9 5AF
Telephone: 01625 545 745 or 0303 123 1113    Website: www.ico.gov.uk
Changes to this privacy policy
This privacy policy may be updated in due course. When we make changes to this notice, the 'last updated' date at the top of this page will also change. Any changes to this policy will apply to you and your data immediately. If these changes affect how your personal data is processed, we will take reasonable steps to let you know.
Shop products
Prices shown are for UK delivery only. To discuss overseas orders please email CadwOnlineShop@gov.wales.
Delivery Information
Standard UK delivery (by Royal Mail or Courier) £2.95
Standard Delivery
Applies to UK standard rate delivery only – you can expect delivery by Royal Mail or courier within 7 working days of placing your order.
It may take longer to deliver to remote areas, including the following post codes: AB, BT, DD 8-11, HS, IV, KA 27-28, KW, PA20-23, 28-29, 31, 34, 41 onwards, PH8, 10, 16, 18 onwards, TR21-25, ZE.
When will my products be delivered?
After you have placed your order online, we will send you an order confirmation email with the subject 'Cadw Online Shop – thank you for your purchase'.
If you have not received this email within 24 hours of placing your order or your products have not been delivered within the timescale stated in the email, then please email: CadwOnlineShop@gov.wales.
Returns and refunds
Our online tickets refund policy:
Ticket prices, ticket availability and site opening times can be found on wales/cadw
Tickets and booking fees must be paid at the time of your order and tickets cannot be reserved pending payment.
All online tickets for events are non-refundable unless the event is cancelled by Cadw whereby a full refund will be given.
All online day admission tickets are non-refundable.
Our online day admission tickets are valid for six months from date of purchase. Please use them before the expiry date as we're unable to give refunds for unused tickets.
Online tickets cannot be exchanged, transferred or resold for commercial gain.
Defaced or altered tickets may be void and the holder will be refused admission.
Proof of entitlement for certain online ticket purchases may be required on entry e.g. NUS.
We're sorry but discount vouchers, promotions or any other offers are not valid when purchasing tickets online, including Tesco Clubcard vouchers.
Under 5s receive free admission, so an online day admission ticket is not required for entry
Our shop returns policy:
We hope you will be delighted with your purchase. Should you wish to return a product (excluding publications) bought from us, we will be happy to refund or exchange in full.
Important: Publications can only be refunded if faulty/damaged during transit or prior to dispatch, or if the incorrect publication/s is sent to you by us.
Items must be unused, in original packaging (with labels) and returned within 30 days of receiving your order. This policy is in addition to your statutory rights and consumer rights.
To arrange a return, please email CadwOnlineShop@gov.wales where you will receive a Returns Authorisation Code and a returns form. Goods should be returned along with your completed returns form to:
Cadw Retail – Online Shop,
Unit 5/7 Cefn Coed,
Parc Nantgarw,
Cardiff.
CF15 7QQ
Please send your package using a secure or traceable method and keep your proof of postage. Return costs are borne by the customer unless an item is faulty. 
If we sent you an item you did not order (an "incorrect" item), please email us and we'll send you a pre-paid postage voucher in order to return to us.
All refunds will be processed within 14 days from the date the returned items have been received.
Refunds will be credited back to your original method of payment within approximately two days of being processed. Depending on your bank, it may take longer for the credit to appear on your account statement.
Please note: If you have purchased an item at a Cadw shop and would like a refund, this can be processed in store only. Please do not use the above process.
Items we are unable to refund or exchange
We are unable to offer a refund or exchange on the following products (unless faulty):
publications; such as guidebooks / guide pamphlets
perishable goods; such as food
personal grooming products
cosmetics
pierced jewellery
unsealed CD, DVD or videos
We will refund you the full delivery charge when a product is returned as faulty or damaged, but not when a product is simply unwanted.
Faulty items
If an item is faulty, please contact us on 03000 250022 or email CadwOnlineShop@gov.wales to discuss arrangements for the return or replacement of the item.